The Seattle Floating Homes Association relies on volunteers to stay afloat. The FHA Board of Directors is a group of volunteers responsible for making sure the Floating Homes Association remains true to its mission, safeguards its assets and operates in the public interest. The Board constantly asks the question: Does the FHA mission continue to serve the intended constituents?  If not, the board works to refine the mission. The following FHA members make up the volunteer Board of Directors from the four regions around Lake Union and Portage Bay.
Officers:
President: Peter Erickson – Eastlake
Vice President: Courtney Neese – Portage Bay
Treasurer: Megan Sutherland

 

– Eastlake
Secretary: Vacant
Members at Large:
Portage Bay –  Joan Rosenstock, Sharon Morken
Eastlake – Sarah Morlidge, Heidi Eagleton, Elliott Wolf
Westlake  – Dave Chapelle, John Giaver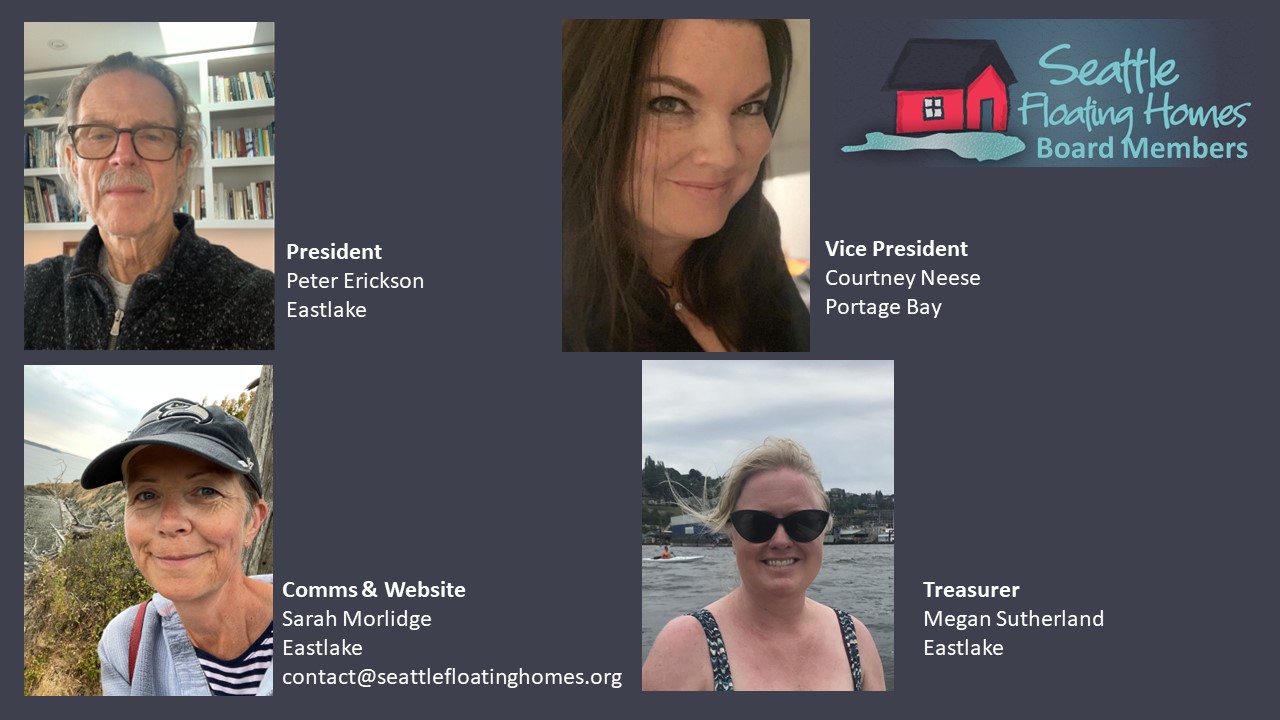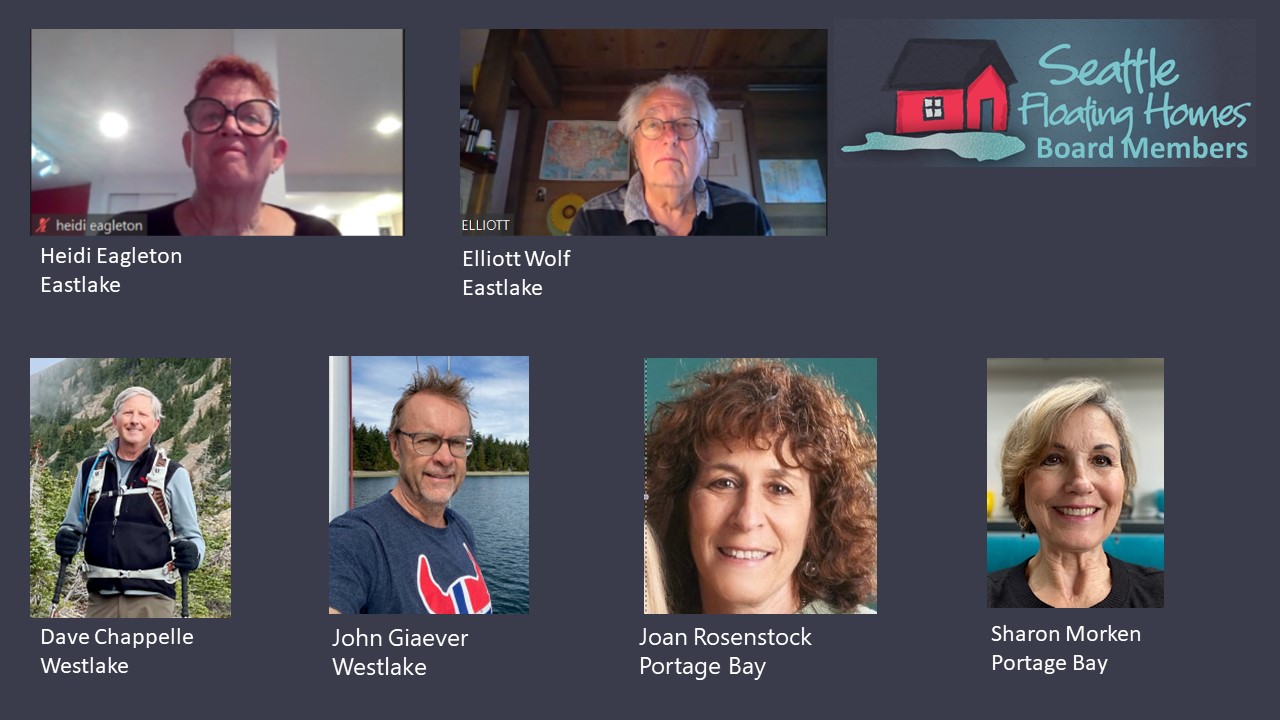 Office Manager Jann McFarland– Eastlake 206-323-3489
2021-22 Board Member Bios:
Officers:
President – Peter Erickson has lived on a houseboat since 1972, married to Brigitte Bertschi (Bertschi School on Capitol Hill) he has raised two kids on a floating home as part of the Log Foundation Co-op at 2025 Fairview Ave East. He's a water person who swims daily in a wetsuit that turns Lake Union into his private year-round pool! While attending the UW Masters Program in architecture in the 70's Peter built, re-built and sold 9 floating homes. An architect by training (attending UW Masters Program) but a real estate developer by trade, from 1981 to 2005 he developed properties in Pioneer Square and Belltown, but has recently returned to Lake Union and Portage Bay to do infill development that tries to meet the objectives of the community council and hopefully enriches the neighborhood. It's his interest to work with the FHA for governmental ordinances and land use regulations that respect the history, character and needs of the floating home community.
Vice President – Courtney Neese lives on Portage Bay.  She is a realtor and knows the houseboat community well.  She has worked extensively on the tour since 2010 with both volunteers and more recently made the ticket and posters for the last two tours.
Treasurer – Megan Sutherland
Incumbent Board Members:
Sarah Morlidge who downsized from a large, suburban Sammamish house to a floating home on Roanoke Reef a few years ago, hails from England and works as Technology & Communications Director at a private school on the Eastside. Sarah loves Washington's scenery and sense of space and has no plans to leave. Living on Lake Union means her spare time is spent on the water, with or without dog, husband, and children.
Sharon Morken was born and raised in the Seattle area. She has always been drawn to living on the water.  When her son was 9 he promised to grow up and earn lots of money so he could buy her a boat to live on! About 4 years ago Sharon changed her vision a bit when the opportunity to move into a floating home became a reality!  It is definitely a lifestyle that she loves! Sharon worked in hospital nursing of various areas for 38 years and retired from that 2 years ago. Her husband thought she had too much free time on her hands, so a year ago they purchased a houseboat that she renovated and is now managing as a rental. In her real free time, Sharon enjoys being on the water or just looking at the water, yoga, golf, skiing, biking and ballroom dance. She also has 4 kids, 7 grandkids that keep me busy too! Sharon is looking forward to pitching in and offering whatever she can to the FHA.
Elliot Wolf has owned a houseboat since 1971 and currently lives at Flo Villa.  He is the founder and owner of the oldest self-publishing house in the nation and has been publishing books for 46 years. He appreciates life on the water and even commutes to work at his office just east of the University Bridge on his Arabian Water Donkey (jet ski) every day.
Joan Rosenstock formed the Portage Bay Condo Assoc. in 1988 and lived on the docks from 1984 to 1991.  She has built 3 new floating homes and owns another one that she currently rents out. Originally from upstate NY, she has lived in Seattle for 38 years and enjoys hiking, skiing, bridge, and golf. Professional background includes land use and transportation planning, and policy adviser specializing in project implementation.
Dave Chapelle serves as the FHA's liaison to Puget Soundkeepers and represented the FHA during the design and building of the Westlake Cycletrack.
Heidi Eagleton – Heidi's interest is in Seattle's permitting process, including code and compliance requirements and how that process impacts floating homes' culture, history, and sense of place. Heidi's background is in law, architecture, construction, development, and real estate and as an owner of a floating home in Seattle and part-time resident, she has worked for the past two years with the City of Seattle to obtain a Land Use and a Construction Permit for our floating home's planned 100 square foot addition and roof deck. Her short story, "Mi Sueno," will appear in "Landless in Seattle," when published, an anthology of work from writers, artists and poets who live in Seattle's floating homes, houseboats, and barges, published by Seattle's own, Peanut Butter Publishing. Proceeds from its sales will benefit the Floating Homes Association.
John Giaver –
Contact Us