The Seattle Floating Homes Association relies on volunteers to stay afloat. The FHA Board of Directors is a group of volunteers responsible for making sure the Floating Homes Association remains true to its mission, safeguards its assets and operates in the public interest. The Board constantly asks the question: Does the FHA mission continue to serve the intended constituents? If not, the board works to refine the mission. The following FHA members make up the volunteer Board of Directors from the four regions around Lake Union and Portage Bay. If you are interested on serving the board, please email contact@seattlefloatinghomes.org
Officers:
President: Peter Erickson – Eastlake
Vice President: Courtney Neese – Portage Bay
Treasurer: Megan Sutherland

 

– Eastlake
Secretary: John Giaever – Westlake
Members at Large:
Portage Bay –  Joan Rosenstock, Antoinette Sabarots
Eastlake – Sarah Morlidge, Heidi Eagleton, Stafford Green
Office Manager Jann McFarland– Eastlake 206-323-3489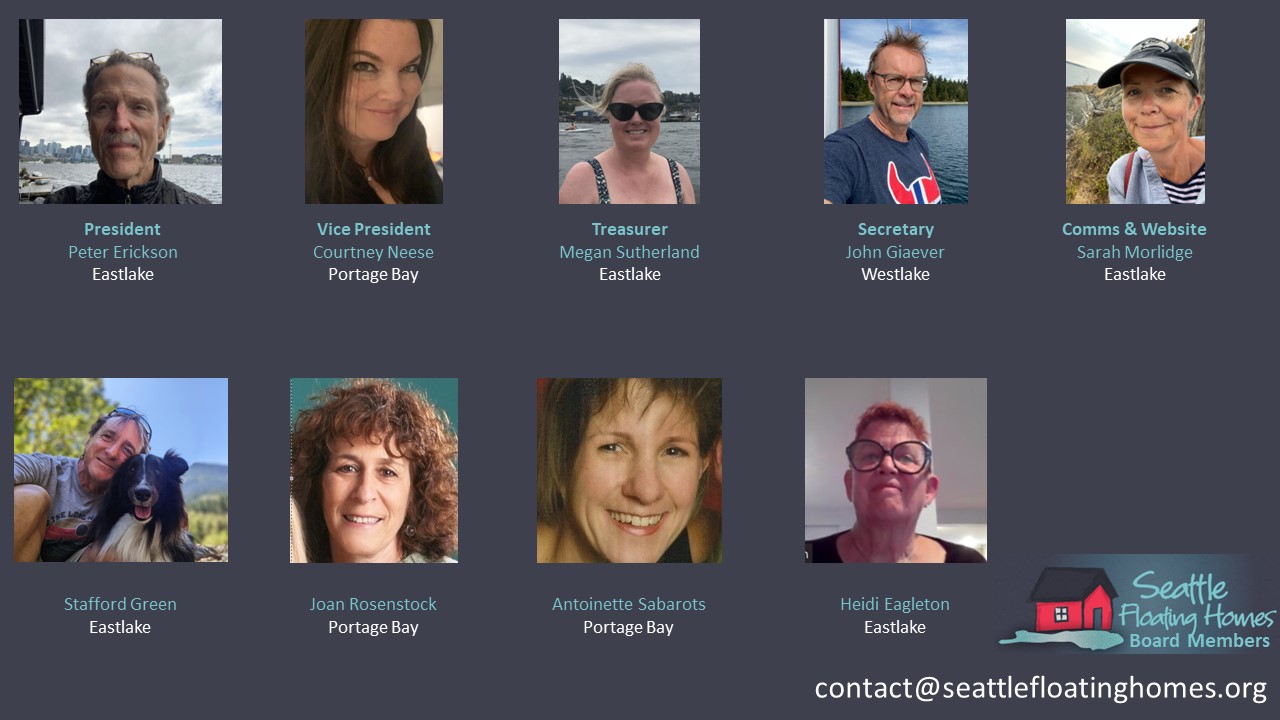 2023-24 Board Member Bios
Peter Erickson has lived in Eastlake on a houseboat since 1972. Married to Brigitte Bertschi (Bertschi School on Capitol Hill) he has raised two kids on a floating home as part of the Log Foundation Co-op at 2025 Fairview Ave East. He's a water person who swims daily in a wetsuit that turns Lake Union into his private year-round pool! While attending the UW Masters Program in architecture in the 70's Peter built, re-built and sold 9 floating homes. An architect by training (attending UW Masters Program) but a real estate developer by trade, from 1981 to 2005 he developed properties in Pioneer Square and Belltown, but has recently returned to Lake Union and Portage Bay to do infill development that tries to meet the objectives of the community council and hopefully enriches the neighborhood. It's his interest to work with the FHA for governmental ordinances and land use regulations that respect the history, character and needs of the floating home community.
Vice President – Courtney Neese lives on Portage Bay and is a realtor who knows the houseboat community well.  She has worked extensively on the tour since 2010 with both volunteers and more recently made the ticket and posters for the last two tours.
Treasurer –  Megan Sutherland has lived on a floating home in Eastlake for almost 10 years, and loves the community and life on the water. She is a community volunteer, currently serving as the board chair of Safe Crossings Foundation, a leader in funding grief services for children in the Puget Sound region. She attended University of Washington for both undergraduate and graduate school, where she earned a BA in English literature and then an MBA in finance.
Secretary – John Giaever from Westlake is a retired engineer who specialized in designing medical devices. Originally from Norway, he was raised in New York and has been a resident of Washington since 1977. After spending two years on the Olympic Peninsula, he attended the University of Washington. Having lived on two houseboats, including his current residence on Westlake, John has firsthand experience of the floating homes lifestyle. In his leisure time, he enjoys outdoor activities and floating on all types of water crafts. He is committed to ensuring the thriving of the Floating Homes Community and the equitable sharing of the Lake's resources for all.
Board Members at Large:
Sarah Morlidge who downsized from a large, suburban Sammamish house to a floating home on Roanoke Reef a few years ago, hails from England and works as Technology & Communications Director at a private school on the Eastside. Sarah loves Washington's scenery and sense of space and has no plans to leave. Living on Lake Union means her spare time is spent on the water, with or without dog, husband, and children. Sarah looks after the website and sends out the e-alerts.
Joan Rosenstock formed the Portage Bay Condo Assoc. in 1988 and lived on the docks from 1984 to 1991.  She has built 3 new floating homes and owns another one that she currently rents out. Originally from upstate NY, she has lived in Seattle for 38 years and enjoys hiking, skiing, bridge, and golf. Professional background includes land use and transportation planning, and policy adviser specializing in project implementation.
Heidi Eagleton – Heidi's interest is in Seattle's permitting process, including code and compliance requirements and how that process impacts floating homes' culture, history, and sense of place. Heidi's background is in law, architecture, construction, development, and real estate.  After retiring, she moved with her husband, Kevin, and their Italian Spinone, Maddie, to a floating home in Seattle in 2021. As an owner of a floating home and part-time resident, she has worked for the past few years with the City of Seattle to obtain a Land Use and a Construction Permit for a planned 100 square foot addition and roof deck. She is writing a biography of her dog's life in her own words and from her point of view. "So, You Think I Should Be a What? Maddie's Tails," was published in 2021. Book 2, "Roadtrip with Tia, Maddie's Tails Cont.," is scheduled to launch by Peanut Butter, August 2023. Heidi splits her time between Seattle and  Little Tuscany, a quaint mid century neighborhood in Palm Springs.
Stafford Green – Stafford, his wife Kristin, and their dog Watson have recently moved from the east coast to join the Seattle floating home community in Eastlake. Stafford spent over 25 years leading international marketing and IT teams for The Coca-Cola Company in the US and Europe.  Post corporate life, he runs capeLABS, a non-profit organization he founded. Their mission is to combat child abuse, including sexual abuse, by creating and distributing positive, innovative content.  Stafford's passion and dedication drive his efforts to make a lasting impact and create a safer environment for children. www.capelabs.com
Antoinette Sabarots – Antoinette's love for the water started young.  Raised in southern California, she was immersed in the French Basque community and her parents' restaurant. Her close friend from  Scripps College brought her to the Pacific Northwest for a visit and she immediately fell in love. After earning her Masters at UCLA, she came to the Northwest and has been a resident of Washington since 1992. Antoinette is an educator.  She has taught, administered and started her own school. She has been assistant principal of Eckstein & Washington Middle Schools, founded two bilingual preschools and has spent time living and working in the Middle East.  Antoinette and her family live in a floating home on Portage Bay. She is passionate about keeping this lifestyle accessible to all.
Contact Us