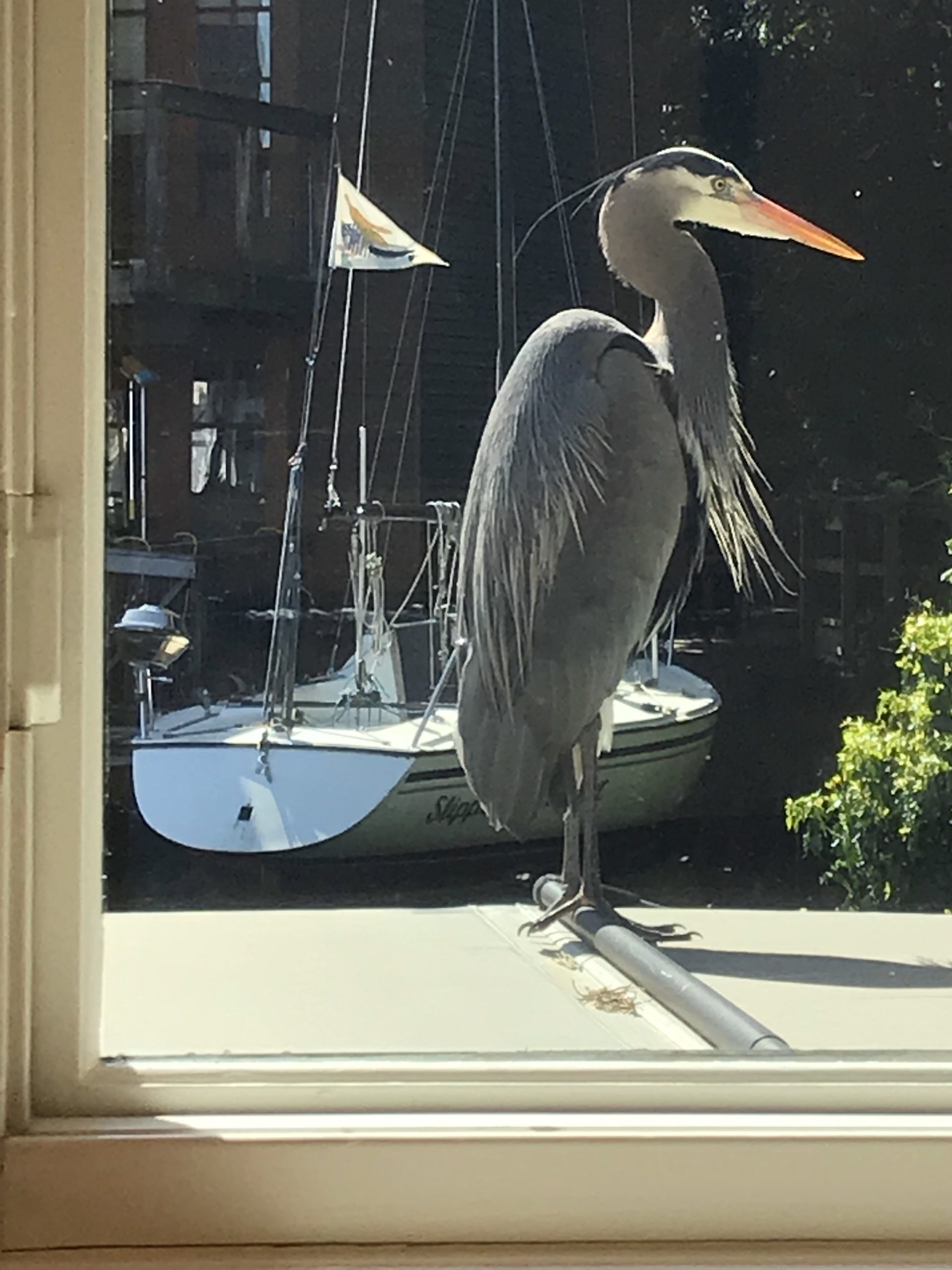 A floating community can potentially contribute to water pollution with both solid and liquid wasted. To help bring the water quality and sediments of Lake Union to a cleaner level, these floating home Best Management Practices (BMP's) are recommended. Remember, under Washington State Law, Chapter 90.48.080 RCW, it is illegal to discharge or allow discharge of any pollutants into the water. With a  little forethought and common sense, we can stop pollutants from falling into Lake Union, thus creating a safer and cleaner 'water yard' for our outdoor recreational pleasure, and for the well being of the wildlife around us.
Garbage and Recycling
Dispose of garbage onshore in your garbage dumpsters. Recycle paper, glass, cans in the recycle bins. Keep the area around dumpsters and bins neat and debris-free.
Do not dispose of the following in the dumpsters: paints, solvents, fuel, oil, batteries, anti-freeze, wet rags. Take these to the King County Household Hazardous Waste Station.
Do not dispose of any item from your floating home or dock into the water.
House, Deck, and Dock Maintenance
When prepping the house or deck for paint, stain, or varnish, tarp your work area to trap any paint chips or dust, thus preventing anything from falling into the lake.
Vacuum or sweep up frequently.
Keep the paint in small containers, bringing out only what you need.
Use a drip pan or tarp to mix or transfer paint or solvents. Keep the containers in a drip pan while working.
Paint and solvent spills need to be contained and cleaned up immediately.
Sub-Contractors
Inform your contractors, subcontractors, and any employees about these water quality Best Management Practices (BMPs).
You will be held responsible for the actions of your contractors, subcontractors, and any employees regarding adherence to all water quality rules and regulations.
General Housekeeping
Secure all household items and outdoor furnishings located near the edge of the structures in a manner that will keep them from blowing or falling overboard into the lake.
Consider vacuuming decks instead of sweeping to minimize dirt from entering the lake.
Gardening
Tarp your work area when planting or repotting plants to avoid anything from falling into the water.
If using fertilizers on your plants, do not overwater so that the toxins spill over into the lake.
Boat Maintenance
1) Engine Work
Use absorbent pads under the engine or in the bilge when changing oil.
Recycle waste oil and oil filters at an automotive store or at the household hazardous waste station. Recycle batteries when you buy new ones.
Dispose of antifreeze and transmission fluid at the household hazardous waste station.
2) Painting and Varnishing
Tarp the area between the boat and the floating home to trap any sanding dust or debris.
Vacuum and sweep up frequently. Use a sander with a collection bag.
Keep paint and varnish in small containers and inside a secondary drip pan.
Use a tarp or drip pan under your materials when mixing or transferring paint, varnish or solvents.
Paint, varnish, and solvent spills should be treated as oil spills.
Do not leave any containers of fuel, oil, solvents, fluids, paint, batteries, or debris of any nature on the dock or out in the open on your deck or access ramp.
Accidental Spills
In case of a fuel, oil, paint, solvent or dangerous material spill, STOP the source of the spill and begin to clean up immediately.
DO NOT pour liquid detergent onto the spill.
Keep absorbent pads available to throw onto the surface of the water to sop up the spill.
Double bag the dirty absorbent pads and dispose of them in your garbage dumpster.
For a large and uncontrolled spill, call the U.S. Coast Guard at 1-800-OILS-911.
Pets
Scoop and discard pet poop via the home sewer system or bag it and place in the garbage.