Sunday, September 11th, Noon to 5 p.m.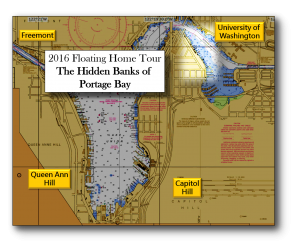 It only happens once ever 2 years and it is always sold out!
Tickets will go on sale mid July at BrownPaperTickets.com
Unlike tours of the past where you get to explore the homes surrounding all the hustle and bustle of Lake Union , the 2016 tour will offer a limited number of guests a once in a lifetime chance to visit the seldom seen Floating Homes along the hidden and tranquil banks of Portage Bay.  The tour will offer a unique mix of old and new architecture with a history all their own. It will be a chance to experience part of Seattle's Floating Home culture and why as one of Seattle's unique jewels it sets Seattle apart for other cities in the world.
You will come away with an appreciation of why Seattle's Floating Home owners cherish their lifestyle and why they have become known as the  "Stewards of Lake" as they protect the nature and animal habitat the docks, homes and surrounding foliage the owner care for provide.  No where else in the world do you find the kind coexistence of wild life and city life blending so harmoniously. We look forward to having you as our guest!
Interested in Volunteering to help the Tour? Click here to volunteer .
The Tour has it's own Facebook page – you can follow us here https://www.facebook.com/seattlefloatinghomestour/