September 2016 – Next Floating Home Tour
The 2014 Floating Home Tour was a bucket full of fun, a bit of work, and a grand success.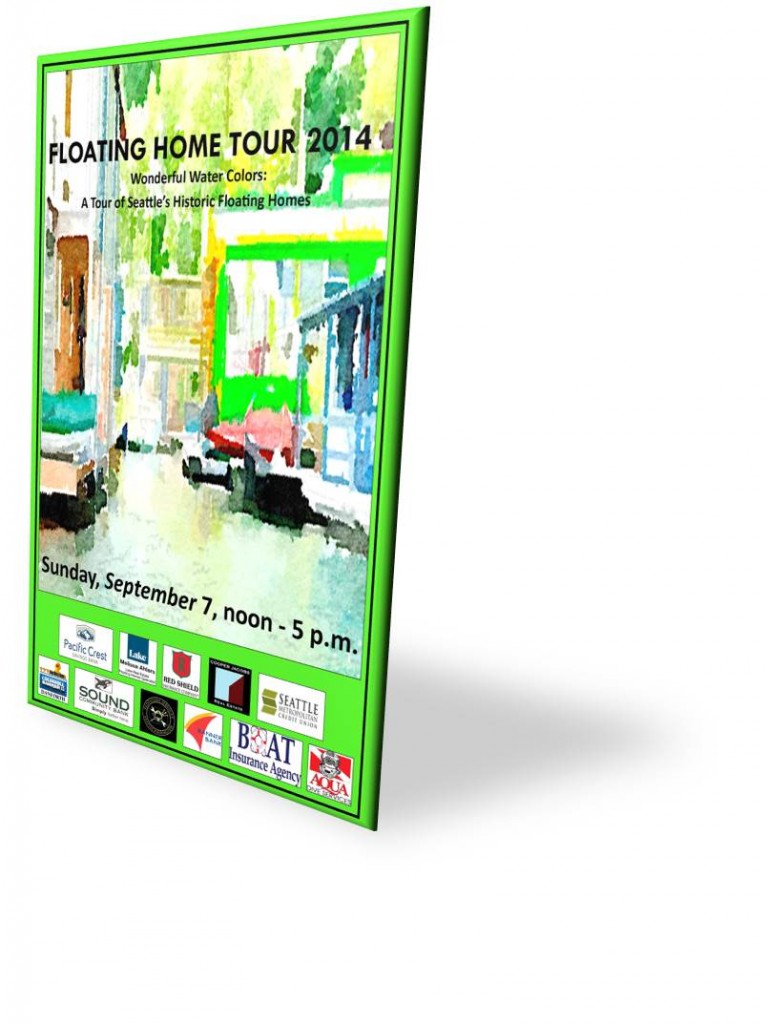 With the theme, "Wonderful Water Colors," we featured an eclectic blend of twelve homes in the Westlake and Eastlake neighborhoods.  As one participant stated
, we "knocked it out of the ball park." 
We could not have a floating home tour without participants willing to open their doors and iconic lifestyle to our community.  Immense thanks to those who volunteered their homes for the tour:  Kathy Kimball, Anne Helmholz, Tom and Teresa Monahan, Brent Estes and Jen Nilsen, Gerry and Tanya Seligman, Jason Fitschen and Robin Clewley, Sebastian Motte, Phyllis Hatfield, Susy and BJ Wakkuri, Mike and Kris Villiott, Bob and MJ Koenig, and Bob Berman and Lisa Horton.  We hope you all had as much fun hosting as our committee had planning. 
This year the FHA hosted an evening gathering with drinks and luscious appetizers for the homeowners and committee members the evening before the tour at Sue Jostrom's home, as a small way to say thank you.  We hope to make this a regular part of the tour experience.  If we come calling in 2016, I hope you will consider being a part of the FHA mission of "protecting, preserving and promoting the vitality of Seattle's Floating Homes Community."  The every-two-year tour proceeds keep FHA in business and give us the ability and to continue our mission of preserving our incredible lifestyle.
A trio of chairpersons coordinated the tour: Susan Jostrom, Tricia Rendina, and Joyce Black. Committee members included Courtney Cooper, Laura Lowery, Beata Rycharshi, Melissa and Tim Ahlers, Molly Cartwright, Tom Hesselbrock and and Jann McFarland.
A special thanks to the volunteers.  More than 100 people volunteered to help with the tour this year.  We could not do this without you.
A HUGE thanks and shout-out to our tour sponsors:
REAL ESTATE BROKERS:
Melissa Ahlers – Lake Real Estate
Courtney Cooper and Molly Cartwright – Cooper Jacob Real Estate
Rick and Joyce Miner – Coldwell Banker Danforth
Linda and Kevin Bagley – Special Agents Realty
Enrico Pozzo – Sotheby's International
Daniel Schalke and Elaine Eigeman – RE/MAX
LeAnne Quinn – Windermere
BANKS:
Pacific Crest Savings Bank – Larry Enselman
Sound Community Bank – David Raney
Banner Bank – Pamela Anderson
Seattle Metropolitan Credit Union – Tina Horne-Gomez and Rocky Lester
INSURANCE COMPANIES:
Red Shield Insurance – Mindy Shane
Boat Insurance – Neal Booth
FLOATING HOME SERVICES
Flotation Services – Greg Johnston
Aqua Dive – Amy and James Hicks
Envirotecture – Eric Hogeboom
Dunn Lumber – Jim Coshow
Trend Construction – Juris Mindenbergs
G. Little Construction – Bob Little
NEIGHBORHOOD SERVICES:
G and H Printing – Kevin Upton
Lake Union Mail – Jules James
Pete's Wine Shop – George Kingen
FLOATING HOME DOCKS:
The Log Foundation
Willow Cove
Lee's Moorings
Mallard Cove
Fairview Landing
RAFFLE SPONSORS:
The Electric Boat Company
Argosy Cruises
MOHAI
Ship Canal Bar and Grill
Eastlake Bar and Grill
Ivar's Restaurants
Captain Geoff Gamsby – Lake Union Charters
Little Water Cantina
And ENORMOUS thanks to the Lake Union Rowing Club for allowing the use of their facility to dock the electric boats.
The next tour in 2016 is right around the corner! Please let us know if you would like to volunteer your home or your time or any skills you have to help put on this amazing event.