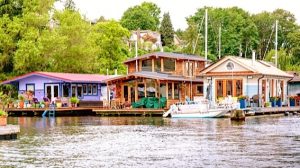 Sunday, September 11th, 
Noon to 5 p.m.
Don't delay – the tickets are selling fast!
This year's Tour will give visitors the unique chance to visit and discover the colorful history of 13 floating homes hidden along the seldom visited banks of Portage Bay.  Tickets are limited and go on sale July 25th through Brown Paper Tickets (www.brownpapertickets.com). Ticket price is $40.00. Capacity is limited so advance purchase is highly recommended. Proceeds from the event will benefit the Seattle Floating Homes Association and its mission to protect, preserve and promote the vitality of Seattle's historic floating homes community through education, advocacy, environmental stewardship and collaboration.
This tour is a walking tour! It involves many stairways and unfortunately will not accommodate those with reduced mobility. Stairs can be slippery, docks are uneven, and everything is afloat and in motion. There is very limited transit along the route as well. Please be prepared for an afternoon of urban hiking!
Unlike tours of the past where you get to explore the homes surrounding all the hustle and bustle of Lake Union, the 2016 tour will offer a limited number of guests a once in a lifetime chance to visit the seldom seen floating homes along the hidden and tranquil banks of Portage Bay.  The tour will offer a unique mix of old and new architecture with a history all of their own. It will be a chance to experience part of Seattle's floating home culture and why as one of Seattle's unique jewels it sets Seattle apart from other cities in the world.
You will come away with an appreciation of why Seattle's floating home owners cherish their lifestyle and why they have become known as the  "Stewards of Lake" as they protect the nature and animal habitat the docks, homes and surrounding foliage the owners care for and provide.  Nowhere else in the world will you find the coexistence of wildlife and city life blending so harmoniously. We look forward to having you as our guest!
Interested in Volunteering to help the Tour? Click here to volunteer. Find our event on Facebook here  
Sponsored by Windermere,  Aqua Dive Services, Brown and Brown, Envirotecture, Flotation Services, Lake and Company Real Estate, Red Shield Insurance, Seattle Afloat, Seattle by Design, Sound Community Bank, Pacific Crest Savings Bank, Dunn Lumber, G. Little Construction, Pete Rogerson Appraisals, Kevin and Linda Bagley Special Agents and International Marine Flotation Services.
Thanks also to the support of the following Floating Home Docks for their generous donations: Runstads, Log Foundation, Fairview Landing, The Old Boathouse, Pettus Cove, Willow Cove, Kingfisher, Onis Goodin, U of W, The Shelby Dock, Mallard Cove and Roanoke Reef
| | | |
| --- | --- | --- |
| | | |
| | | |
| | |   |
| |   | |