2016 Floating Home Tour Thanks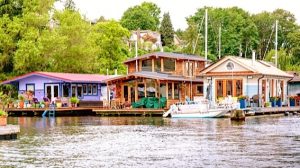 The 2016 Floating Home Tour was a lake full of fun, a bit of walking over hill and dale, and an overall grand success. The tour, "Peaceful Portage Bay" featured an eclectic blend of thirteen homes exclusively in Portage Bay, along with the unique opportunity to explore the University Bridge House.
Thanks to the Floating Homeowners who are the are the tour de force. We could not have a floating home tour without participants willing to open their doors and iconic lifestyle to our community. Immense thanks to those who opened their homes for the tour:
John and Marka Waechter
Cheryl Dyer Carlson and Ken Dyer
Parker Ferguson
Sam Kanner and Kayla Schober
Dave and Joyce Black
Corky and Martha Keck
Audrey Hudgins
Millie Livingston
Bruce Taft
Bill and Janice Albert
Jimmy Rogers
Lois Loontjens
Ross Hartling and Johnese Spisso
You are the stars of the tour! A few comments from the home owners: "A Huge Hit!" "Lots of dedicated, detailed, hard work. Thank you so much." "I loved meeting my neighbors, these are my people!"
The lines were long, again. We reduced ticket sales by 500 (!!) this year, hoping to mitigate this consistent complaint by tour goers. Perhaps we will consider a staggered start or some such thing next time around. We welcome your ideas! However, while lines were long at one home, other homes had only a handful of people. It is a difficult problem to solve, and we apologize for the lengthy waits to peek into some of the homes. Special thanks to S.D.O.T. for their participation.
Thanks to the tour committee: Susan Jostrom, Tour Director; Adair Freeman, Blair Robbins, Courtney Cooper, Giff and Mary Jones, Erik Johnson, Jann McFarland, Kathy Kimball, Molly Cartwright, Sarah Morlidge, Susan Susor, Tanya Seligman, Tim and Melissa Ahlers, and Tom Hesselbrock.
MOST SPECIAL THANKS TO THE 100 VOLUNTEERS.  YOUR ARE A CRITICAL PART OF THE ROCK STAR BAND! ENORMOUS thanks goes to the Pocock Rowing Center and Queen City Yacht Club.
HUGE thanks to our tour sponsors:  
Real Estate Brokers: 
Melissa Ahlers – Lake and Company
Courtney Cooper and Molly Cartwright – Seattle Afloat
LeAnne Quinn, Caitlin Finley, Erik Johnson, Kevin Gaspari – Windermere Real Estate NW, Inc.
Rick Miner and Enrico Pozzo – Realogics Sotheby's International Realty
Linda and Kevin Bagley – Special Agents Realty
Mortgage Companies: 
Pacific Crest Savings Bank – Todd Hull
Sound Community Bank – David Raney
Insurance Companies: 
Red Shield Insurance
Boat Insurance – Neal Booth
Brown and Brown
Floating Home Services: 
Flotation Services – Greg Johnston
Aqua Dive – Amy and James Hicks
Envirotecture – Eric Hogeboom
Doug Bate Painting
Dunn Lumber – Jim Coshow
Little Construction – Bob Little
Peter Rogerson Appraisals
International Marine Floatation Systems, Inc. Matt Tobias
Neighborhood Services: 
G and H Printing – Kevin Upton
Seattle Department of Transportation
Floating Home Dock Sponsors: 
The Log Foundation, Willow Cove, Lee's Moorings, Mallard Cove, Fairview Landing, The Old Boathouse, Pettus Cove, Lee's Mooring, The Shelby Dock, Roanoke Reef, Mallard Cove
Kingfisher Dock; Jim Weyand and Marilyn Robertson
U of W Dock; Tom and Susan Susor
2700 Boyer; Jon and Judy Runstad
Onis Goodin Dock; Maggie Chon
Mark your calendars for the next tour – Sunday, September 9th, 2018 – Noon to 5 p.m. Tickets will go on sale July 2018.