Thomas Naylor (1937 – 2020)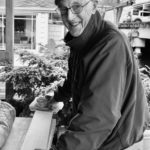 Eastlake's Willow Dock resident Tom Naylor died Nov 30, 2020, at home.  People have wondered where the man with the two sticks is, the man who walked down to the Fairview Bridge and back, or up the hill and around and back.  The two sticks were due to many body setbacks, after a history of intrepid rock climbing in the early days in Yosemite, inspiring ski patrol and back-country and telemark experience – plus stories to go with it all.  Tom could and did run like the wind for years until Polycystic Kidney Disease arrived.  We had not known this genetic disease was in Tom's code.  His dear climbing and ski buddy Al in Calif was able to donate a kidney in 1998.  It was a gift of life but as anyone familiar with transplants knows, there is a price.  The thing is though, that intrepid athletic history had everything to do with the 23 years he forged on, despite so many challenges.  He worked hard to make the Willow dock and the Eastlake P-Patch expansion and re-build solid places for people to live and share the good life.  Tom had also always been a woodworker, and after retirement from Economic Development Administration where he shepherded grants for towns and cities and regions in the western region, he moved into this passion full-time.  Tom built boats, the beautiful trim and built-ins in our houseboat on Willow Dock where we have been for 27 years, many fun extras like breadboards, as he began baking "to die for bread", and towards the end carving beautiful wooden spoons.  He simply never quit, until his heart quit on him.  Tom left me, Mike, and my daughters too, with big holes in our lives.  They say time heals, bring it on, I miss him more than I knew possible.  And if you ever are ready to give up, think of the man with the sticks – there are others here in Eastlake, men, and women, who just keep going. It is all humbling.  And inspiring. Submitted by Mikela Naylor – 
mikelanaylor@me.com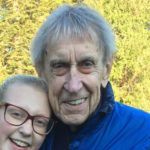 Michael Dederer (1932 -2021) a long-time owner on the Rosenquist dock at Hamlin/Fairview passed away March 7th, 2021 in Seattle aged 88. Mike was born and raised in Seattle. He attended the UW and was one of the founders of the Crystal Mountain resort. You can read all about Mike, his family and his eventful life here.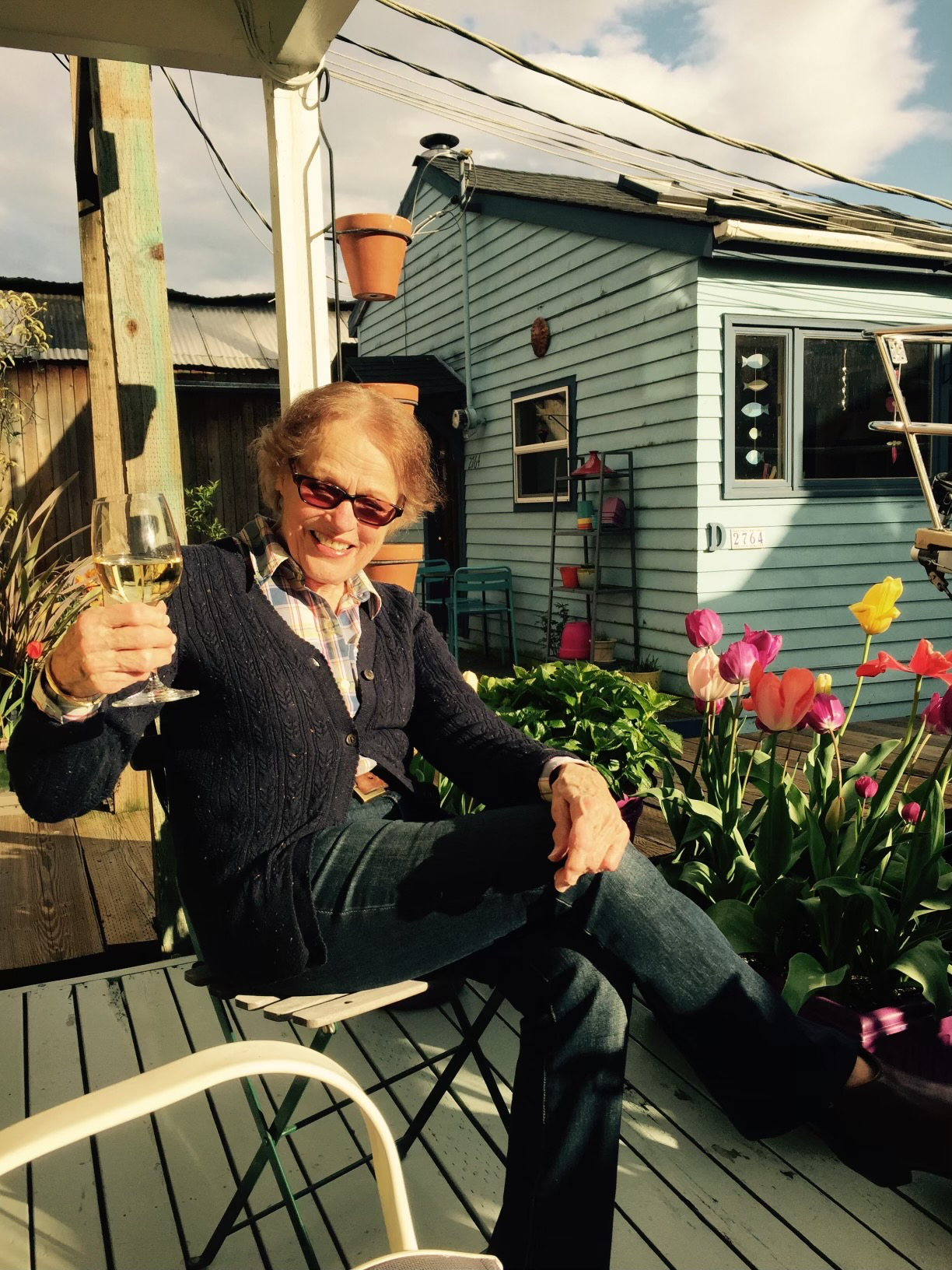 Ruth M. Prime (1930 – 2021) passed away peacefully at her Lake Placid home in NY on January 13th, 2021 at the age of 90. Ruth loved houseboat living on Lake Union. She prided herself on planting flowers and plants native to the Northwest at her front door and on the expansive rooftop deck of her home. Ruth also spent many enjoyable hours tackling the plantings and maintenance of the gardens at the "Westlake Cove" dock entrance, Every week during the summer, Ruth would bring home Swanson's boxes with new and exciting plants she had purchased. We are sure that Swanson's will miss her! Ruth was always fascinated by the"critters" of the neighborhood. Whether it was raccoons running down the dock' hummingbirds nesting or beavers chewing down her newly planted trees. In 2010, Ruth graciously let her home be included on the Floating Homes Tour. Houseboat preservation and community bonding were important to Ruth.  Ruth enjoyed good conversation and entertaining. Many evenings were spent with neighbors sitting on our decks and visiting for hours. Ruth will be missed by her Westlake Cove neighbors. Please raise a glass and toast Ruth: "Many people walk in and out of your life, but only true friends leave footprints in your heart". Sleep sweetly, Ruth. Thank you to Pam Wild for this obituary. You can read more about Ruth's life here.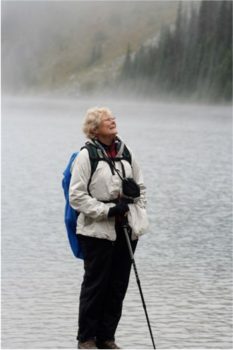 Betty Swift (1930 – 2021) passed away peacefully on January 29 in Seattle, Washington after a brief illness. A long-time floating home resident, Betty served on the FHA Board and graciously let her Victorian style floating home be included on the floating homes tour. Betty particularly loved the nature and wildlife that surrounded her floating home and took some beautiful photographs for previous issues of the FHA newsletter, which you can view here. To read the full obituary and find out about Betty's contribution to the Audubon Society and the League of Women Voters, as well as her lifelong life-long devotion to the outdoors, conservation and environmental issues, and keen sense of adventure click here.  Betty will be much missed by her Portage Bay neighbors, including an unusually large gang of various waterfowl who Courtney Cooper reports have been gathering around her house to salute her and say goodbye.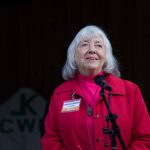 Colleen Wagner, the co-founder of The Center for Wooden Boats, passed away on January 2, 2020. The wife of Dick Wagner, she was a long term floating home resident and continued to live on the Old Boathouse after Dick passed away in 2017.  It was Colleen who encouraged her husband Dick to start the wooden sailboat livery in The Old Boathouse. Colleen and her husband received a number of awards for their contributions to the preservation of wooden boats and heritage building skills. There will be a tribute event at the Center for Wooden Boats in early March. In the meantime, if you would like to make a gift to CWB in Colleen's honor, please visit their donation page and type "Thank You Colleen" in the comment box with your gift.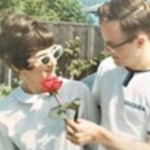 Ellen Addelson Hansen (1946 – 2019) On Monday, November 11, 2019, Ellen Hansen, loving wife, mother, grandmother, sister, friend; dedicated, and difference-making citizen and quintessential Seattleite, passed away suddenly at the age of 73. She grew up on Long Island, New York listening together with her father to Vin Scully announce the trials and tribulations of their beloved Brooklyn Dodgers. An early politico, Ellen and identical twin sister Elizabeth recruited a group of their friends for a bicycle parade with signs and streamers to get out the vote for Adlai Stevenson. Her childhood passions would find a perfect new berth in Seattle. Ellen studied English Literature at Barnard College while falling in love with Steve Hansen, a Columbia University student hailing from the "hinterlands" of Vashon Island. Steve and Ellen married in 1966 (celebrating their 50th anniversary at Ray's Boathouse in 2016). Together, they raised daughter Jennifer on their Eastlake houseboat as Ellen embarked on a prominent career in public and community service. Ellen took tremendous pride and joy in her family. On a spectacular Seattle afternoon in 1976, Ellen, Steve, and their then 5-year-old daughter Jenny sailed together down Lake Union on their small catamaran, espied the charming houseboat Ellen had seen advertised in the classifieds, and, inspired by the beauty and moment, impulsively decided to buy the floating home that would be their safe harbor for the rest of her life. And it was there that the Hansens would host legendary annual Fourth of July parties where partygoers would climb up to the houseboat roof to watch the fireworks. You can read the full obituary here.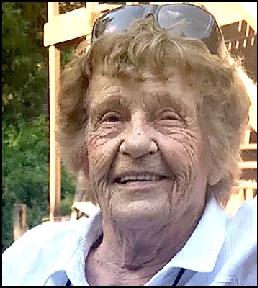 Gertrude Eleanor (Schneider) Eva 1933 – 2019 Gertrude was born January 19, 1933 in Spokane, WA and died January 9, 2019, in Seattle, WA. She is survived by her daughter and son-in-law, Allison Eva and Stan Wesson, her grandchildren, Max and Hank Wesson, and her sister, Rosemary Balazs. She was preceded in death by her parents, Herman and Rose Schneider, and her partner, Frank Farrington. Gert grew up in Spokane and graduated from North Central High School. She was a long time owner of The Attic Tavern in Madison Park and lived in a houseboat on Wandesforde Dock, Lake Union for 56 years. She'd be mad if I paid for more than an inch in the obituaries! Celebration of Life was Saturday, May 11, 2-5 pm at the Electric Boat Company on Westlake.
Walter Eva 1932 – 2019 Walter was born January 1, 1932 in Chewelah, WA and died May 5, 2019 in Spokane, WA. He is survived by his daughter and son-in-law, Allison Eva and Stan Wesson, his grandchildren, Max and Hank Wesson, and his sister, Sally Eva. He was preceded in death by his parents, Clyde and Florence, a brother, David, a sister, Carolyn Booton and his wife, June Eva. Walt grew up in Spokane, graduating from North Central High School and Gonzaga University. He served in the marines during the  Korean War. During his lifetime he owned and operated The Attic Tavern, Seattle, The Skyroom Restaurant, Boeing Field, The NorWester Restaurant, White Pass, WA, Audrey's Diner, Newport, WA, The Dutch-American Bakery, Sedro Woolley, WA and Our Place at the Beach, Long Beach, WA.  A celebration of life will be held in Spokane later this month.
Elaine Eigeman 1943 – 2019
Elaine was born a twin with her brother, Larry, in Great Falls, Montana, April 23 in 1943 to Dorothy Eleanor (Dardis) and Robert Lawrence Eigeman. Elaine peacefully passed April 24, 2019 at home in Seattle due to complications of lobular breast cancer. Most floating home residents know Elaine Eigeman and Daniel Schalke, who for decades have been prominent real estate agents representing our community, and longtime supporters of the FHA. They participated in our fund raisers; they attended meetings; they were generous with advice. Twenty years ago, Elaine was diagnosed with a very serious breast cancer. In the ensuing years, Elaine has had a lot of problems with lymphedema — a problem with swelling due to the inability of lymph fluids to flow properly, because lymph nodes are taken out to diagnose the spread of cancer. One of the main treatments is to wear compression garments — but which are NOT covered by Medicare! Always the creative problem solver, Elaine fought hard in the ensuing years to get some bills through Congress to get this basic coverage. She and other advocates are close, but not quite there. Characteristically, she used her last energies to raise money to get the lymphedema bills finished and signed. You can contribute to the cause at https://www.crowdrise.com/o/en/campaign/march-madness-for-the-lta/elaineeigeman, and read the full obituary from the Seattle Times here. The memorial for Elaine will be held at the Mountaineers Club on Sunday, July 14 from 1pm to 4pm. 7700 Sandpoint Wy NE. Seattle.
Beverley J. Mattson 1926 – 2018
Beverley J Mattson, aka Bev, Mum, and Lady of the Lake, born May 14, 1926 to Agnes and William MacKenzie, passed with grace on October 31, 2018 surrounded by her family. Bev lived aboard a floating home on Dox Co-op from 1985 until 2013, where all were welcome in her home and all were encouraged to join her for a swim. Bev's optimism and laughter were contagious, and her vibrance, warmth, and uncanny ability to riff the blues will be remembered and treasured by all who knew and loved her. You can read the full obituary on the Seattle Times here.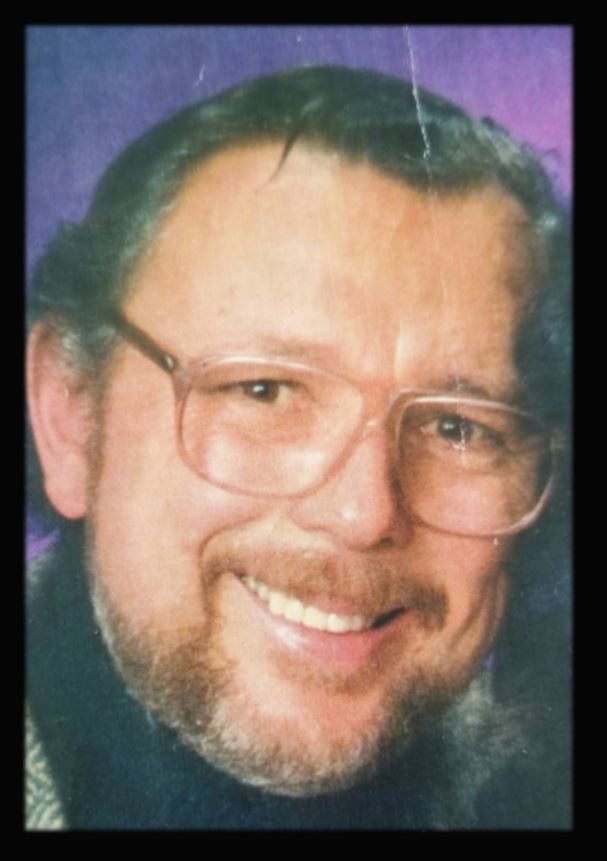 George Thomas Johnston – died Monday, March 25, 2019, aged 83, at home surrounded by his family following a long illness. He leaves his wife of 53 years, Marian "Rickie" (Gonzalez) Johnston; his sons, George Jr. "TJ", Greg, his daughter's Renee Baker and Rachel Blake; and his 5 grandchildren and many nieces and nephews. Born and raised in Newark, NJ, the son of George and Virginia (Sacco) Johnston, was raised in Rye,
New York but spent most of his life in the greater Seattle area. In his early years, George and his brother Neil lost their parents and moved to Rye, New York to live with their Uncle and Aunt. After graduating High School in 1953, he attended Antioch University in Ohio, graduating in 1958 with a bachelor's degree in Marine Biology. After graduation he moved to Seattle to continue his education at the  University of Washington. He worked for Boeing, where he met his wife, Rickie, in a carpool he had created and they were married in 1965 at St. Thomas' Catholic Church. George worked at Boeing for ten years but left to create his own company, "Flotation Services", his maintenance company that served the residents of the Lake Union Floating Homes for over 45 years. He had a passion for these homes and was a Founding Father of the Floating Homes Association. This organization would help safe guard this unique and special community for decades, because it was continually under threat of being torn down for development. To some the Seattle Floating Homes are considered to be as much of a City Landmark, as the Space Needle. He not only took pride in his business, but truly relished the friends he made during his time there. Over the years, his reputation led him to be named in several books about Lake Union.

Phil and Elaine Davis of Portage Bay – Phil Mark Davis (August 5, 1927 ~ July 17, 2015) – Phil passed away peacefully, to be with the Lord, July 17, 2015 at Queen Anne Manor from Alzheimer's disease. You can read the full obituary here. Phil has now been joined by his wife of 58 years, Elaine Gething Davis (1927 ~ 2018). Elaine was an energetic and enthusiastic resident of Portage Bay for 45 years. You can read her full obituary here.
Dick Wagner – Sad news from Westlake.  Dick Wagner passed away April 2017, aged 84. For those who did not know Dick, he was on the Floating Homes Board starting in about 1972 and became President in 1976 and then again served on the Board after stepping down from the presidency in 1978. He lived in one of the oldest historic houseboats on Westlake at the Old Boathouse moorage. and started renting small boats from his dock in the early 1960s. He later moved the boats to the Center for Wooden Boats where he continued to run the center for many years. You can read his Seattle Times obituary here.
Captain Mark H. Freeman – Born March 15, 1934 in Seattle, WA. Died January 26, 2017. Captain Freeman owned the moorages at 2764/66 WLN (Westlake Cove) where he lived for

many years and also was a part owner of the docks 2017/2019/2025 FVE now known as The Log foundation.  "He was one of the good guy moorage owners. He was reluctant to sell the moorages to the home owners but did so – the Log Fn in 1984 and the Westlake moorages quite a few years later." said Jann McFarland, Office Manager of the FHA and long time resident of the Log Foundation. Captain Freeman was also the owner of Fremont Tug which is now run by his son. You can read the all about his very interesting life in his obituary here.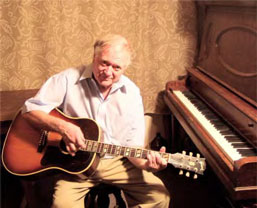 Bob West – Born on March 27, 1942 in Seattle, WA. Died aged 74 on July 31, 2016. Jay Robert (Bob, Jay) West ‒ longtime traditional jazz and blues musician, radio show host, and record producer ‒ died on July 31 of cancer. He was 74. Respected by musicians and collectors the world over for his field recordings and interviews, Bob was Seattle's premier archivist of country blues music. You can read the full obituary here. There is also a remembrance and more photos of Bob here.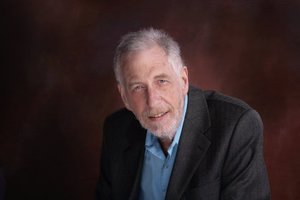 Bill Keasler – Born on November 13, 1946, in Tacoma, WA. Died aged 69 on March 17, 2016. A longtime leader of Seattle's houseboat community, Bill Keasler was president for 30 years of the city's Floating Home Association, which fought battles with city and state officials to keep the homes on Lake Union and Portage Bay. You can read the full obituary here.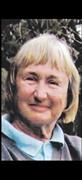 Maxine Joy Mundt Bailey –  born May 26, 1932 and passed peacefully from this life in the arms of her loving husband on September 7, 2015. She is survived by her husband Lawrence Bailey, son Mark Bailey (Kim), daughter Ann Compton (Dick), and grand-daughter Monica Compton. Maxine was known for giving 110% of her energy to whatever project she was engaged in. She returned to school to achieve her degree in Dental Hygiene. Not only did she throw herself whole heartedly into her dental hygiene career, but also served as president of the Greater Seattle Dental Hygiene Association. She led a group of camp fire girls, consistently provided home – made bread and home cooked meals for her family, and picked up litter while jogging. She summited Mt. Rainier and many other NW peaks. She spent 141/2 years sailing around the world on their 41′ sail boat "Shingebiss". During that voyage she visited 72 countries, all of the oceans and continents, and no canals. Before she entered a country she would know its history, and when not certain of a flower or bird, always had her books in which to look them up. She had 83 inspired years of life lived with enthusiasm, 60 years of marriage to the man of her dreams, and always encouraged her children by example to live full lives with integrity, energy and love. All of us feel a huge void in our hearts, but carry her love of living forward to give to others.