Birds on Lake Union and Portage Bay — April 2021
By Dave Galvin, Seattle Audubon "Master Birder" and houseboat resident since 1986
Most houseboaters see our local Canada Geese and Mallards when the birds paddle by all year round or, this time of year, when they climb up on the deck looking for a place to nest, or honk or quack annoyingly early in the morning trying to define their potential territory. These are our resident birds. They have very different biologies.
Canada Geese mate with multi-year bonds (known as "mating-for-life", although that might be a bit anthropomorphic), and the male sticks around to help with nesting, fledging, and taking care of the new brood, although only the female sits on the nest to incubate the eggs. These geese tend to form multi-family groups with the new fledglings, called gaggles, where different "sentries" take turns to watch for danger while others feed or sleep. You can see this behavior clearly in the groups of geese that hang out through the winter and early spring at Lake Union Park near MOHAI and at Gas Works Park.
They split up into mated pairs by early March and find nesting spots around the lake. Only later do they reunite with their family groups. When they reassemble after the young hatch and immediately fledge (these "precocious" young are able to swim within 24 hours), they often organize day-care, where one pair of geese will watch out for up to 20 or more young, way more than any one pair could produce from their own nest, in a group known as a crèche or gang brood.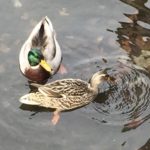 Mallards, our local, most common duck, have a different mating strategy. They select different mates each season, and even during the season. They tend to pair up early in the winter, as the male defends his selected mate for the spring (because, not sure why, there are more male Mallards than females). But once they have established a nest on the shore or houseboat around April, and the female is on eggs, the male leaves the rest to her — she broods the eggs for a month, and then marshals the precocious young as they feed on algae and other greens along the water's edge. Males quickly thereafter swoop in in hopes to mate again with any female in sight for a second brood, all the better to send his DNA on to the next generation. This rendezvous later in the spring or early summer, even while the young are still following their mom, can seem quite aggressive, even what one of my neighbors referred to as "duck rape," yet it is what it is — a different strategy for moving DNA forward. We are all observers to this choice of the "Anas" genus of dabbling ducks, which is very different from the approach of the "Branta" genus of geese. Evolution has produced multiple ways to successfully reproduce. And one must admit that both Canada Geese and Mallards have been successful.
Geese, ducks and many other birds, especially those with precocious young who can walk, swim and eat within 24 hours of hatching, also follow a strategy of having large broods, due to predator loses before any can "fledge" in the sense of being able to fly. Geese typically have 5 eggs, although some really proficient females can produce up to 12 eggs in a clutch. Mallards typically have 8 eggs, but clutch size varies from a few to as many as 20!. The female of both species lays her eggs one day at at time, covers them with down, but doesn't incubate them until she is done laying; thus once they are all being incubated, they all hatch at the same time. It is often a houseboat joy to watch the new fledglings swimming behind their mom, eating vegetarian pickings off the logs. But it is also a given, if one pays attention, that the groups of young decrease over time, as otters, raccoons or other predators, even Bald Eagles, take the less-wary young. Over time, multi-year, after all, each pair of ducks or geese only has to produce two successful offspring in order to further the species. The rest are part of nature's challenge, the survival of the fittest and part of the food chain, even on our urban lake.
April signals the return of Ospreys to our area. These consummate fishers "mate for life," but spend their winter vacations at different spas. The females, who leave us first in August, tend to head for the east coast of Mexico or farther south, while the males stay into September to feed the nearly fledged nestlings before heading to Mexico's west coast. They get back together this month at their previous nesting sites (having what ornithologists call high breeding site fidelity) to tell stories about their winters, or not. (Even more interesting, the newly-fledged young are the last to migrate south (how do they know the way?) and they stay 18 months on their chosen wintering grounds before coming back north.) Locally, Ospreys nest nearby on the north side of Union Bay. A pair did try to nest on top of a crane at Lake Union Drydock a number of years ago, but needless to say that platform didn't stay still. The Union Bay birds often come into Portage Bay and Lake Union looking for fish, so keep your eyes and ears peeled to catch them flying overhead or even grasping a fish from the surface of the water with their hooked talons. (If you are lucky enough to see this capture, watch how the bird always shifts the fish to be head-first in its talons as it flies off.) There is talk about encouraging the city to include an osprey nesting platform as part of the redesign of Terry Pettus Park at the E. Newton street-end in Eastlake. We might need to be careful about its location there, preferring a pole in the offshore water, since these birds are prolific and messy fish eaters, resulting in a bit of a stinky mess directly under the nest! Better in the water than on the land.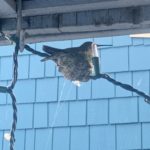 A quick update on Anna's Hummingbirds. A neighbor on the Eastlake houseboats sent me this photo of a female on her new nest, perched, like the image I shared from a local bird from previous years, precariously on a wire under the houseboat's eves. Maybe this is the same female who likes this kind of location and is good at balancing? She has likely laid two eggs and spent most of March brooding them. Watch now for the local nesting females to reappear once the eggs hatch because now she needs not only to feed herself but also her growing young, who require a lot of protein. Watch as mom goes searching along gutter edges and spider webs to pick up midges and other tiny insects to feed her little ones.
Spring is really in full swing now, with Violet-green and Barn Swallows returning, Song Sparrows, House Finches, American Robins and Bewick's Wrens singing on the shore, and many other local birds putting their energy into nesting. I'll try to fill in some more details in May. In the meantime, thanks for the positive comments. Keep your reports and questions coming, to galvind53@gmail.com.
---
March 2021
Ever wonder what that funny-looking duck is off your back deck?  Or wonder why some birds seem to only be here for parts of the year while others are permanent residents?  I hope with this article to launch a monthly update on local birds on our lake.  Here is my first post.  If it piques your interest, let's turn this into a conversation.  Let me know what you are seeing, and what questions you have, to help us all to celebrate nature in the city.
March is a transitional month when local geese and dabbling ducks are paired up and starting to nest while winter visitors are still diving for fish locally before they fly north or into the mountains to breed.  I'll focus today on our wintering waterfowl since most of them will be gone in another month or so.
But first a note about one of our earliest-breeding residents.  Anna's Hummingbirds are already on nest, so if you happen to see mom at your feeder, gleaning sugar water, she is working hard to brood her two tiny eggs.  Soon she will be skimming dock plants for insects and emerging spiders to use as protein for herself and her newly-hatched young.  Here is a shot of two baby hummers tucked tightly into their sock-like nest, which mom chose to build a bit precariously on two joined electric plugs on a neighbor's back deck.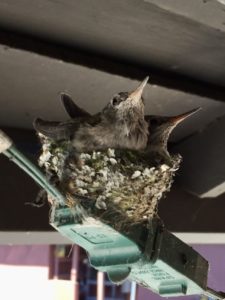 The diversity of water-birds is actually greater on Lake Union and Portage Bay in the winter months than in summer.  Many species of ducks and other waterfowl nest elsewhere, such as in the mountains, or on Eastern Washington potholes, or in the vast Canadian and Alaskan wilds. They then come to more temperate Puget Sound lowlands for our (mostly) snow-and-ice-free winters. One of the more striking species we see now is the Common Merganser.  These sleek waterfowl sit low on the water like battleships.  They are consummate fish eaters who dive under our houses to catch small fish.  The males sport striking white sides and breast, with dark green heads and backs, and bright red, serrated bills.  Females have rusty redheads and gray backs, usually with more of a punk-style crest of rusty feathers sticking out.  We often see flotillas of these mergansers on the lake from November through April, then one day, poof, they disappear for six months to breed.  Shown in the photo is a small flotilla working the fish in my channel.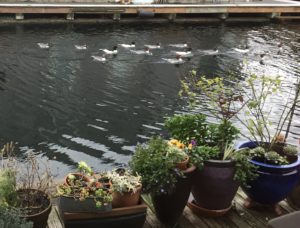 Other wintering ducks include cute little Buffleheads, Common Goldeneyes, Ring-necked Ducks as well as their cousins, Greater and Lesser Scaups, and an occasional Hooded Merganser.  These are all piscivores (fish-eaters), so to me they serve as an indication that Lake Union and Portage Bay are healthy enough habitats to support enough fish for these hungry divers to feed on.
Another common water-bird this time of year is the Double-crested Cormorant, which hangs out here through the winter and then travels east to nest in big colonies in the potholes of Eastern Washington.  You might see the cormorant occasionally sitting on a piling with its wings spread out to dry.  Large groups of them sit on top of the covered moorages along Westlake, and in the spring hang out in the trees along the Ship Canal west of the Fremont Bridge.
American Coots are another primarily winter visitor, often in flocks numbering in the hundreds (and in Union Bay by Husky Stadium in flocks in the many thousands).  Coots are diving vegetarians that bring milfoil and other aquatic plants up to the surface to eat.  They are often hounded by dabbling ducks such as American Wigeons or Gadwalls, who can't dive and who instead lurk at the surface to steal the bottom plants from the diving coots.  You can watch this phenomenon, known as kleptoparasitism, wherever coots hang out this time of year.  A few stay local to breed, but the vast majority wing over the mountain passes in early April to nest in Eastern Washington.
What are you seeing?  What are your questions?  I'll try to address these topics as I also hope to point out our local and transitory birds through the months.  Thanks for your interest and your help to build this column into a useful venue for all.  Send commentary to galvind53@gmail.com. Readers who are members of Eastlake Community Council or who pick up The Eastlake News at Pete's will note that I have launched a companion column in that quarterly publication, where I will keep a neighborhood bird list, so you can see (and add to) all the species documented on land, in the water or overhead in the Eastlake area.  This might miss some sightings from Westlake, Fremont, Gas Works or other spots where FHA members live, but might be of interest to you.  Find this list at www.eastlakeseattle.org .]