More about the rich and colorful history of floating homes and how we have become an integral part of the tapestry of Seattle can be explored further in the links and publications below.
Seattle Post-Intelligencer, January 5, 1902
Web Links
Seattle's Historic Houseboats By Peter Blecha, August 12, 2010
Newspaper features Seattle's houseboat colony on January 5, 1902 by Peter Blecha August 4th, 2010
Seattle's Houseboat Neighborhoods Stay Afloat on Seas of Change Neighborhood Life Interview with FHA Office Manager Jann McFarland – by Candace Brown
The Wagner Houseboat – also known as The Old Boathouse is one of the oldest floating homes in Seattle (built in 1912) and is listed on the National Register of Historic Places
Where we live is as unique as the homes we live in
The Floating Home community exist in a unique fresh water lake nestled in the heart of a major city where both residential and industrial coexist in harmony to give day to day life a one of a kind feel.
You can learn more on the components that make up our unique lifestyle by viewing these videos from the Lake Union Virtual Museum.
Publications on Floating Homes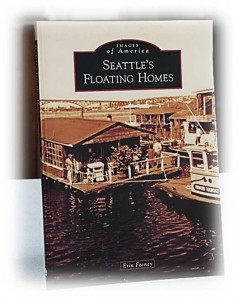 Seattle's Floating Home – Erin Feeney (Available in our Houseboatique)  Copyright 2012, ISBN 970-0-7385-9542-9, Library of Congress Catalog Card Number 2011943128
Seattle's Unsinkable Houseboats: An Illustrated History – by Howard Droker. Watermark Press (1977), It may be difficult to find but worth the effort
Staying Afloat: Life Aboard Houseboats, Barges, and Liveaboards – by Jeri Callahan
Publication Date: May 1, 2005, ISBN-10: 159404001X, ISBN-13: 978-1594040016
The Houseboat Book – by Barbara Flanagan
Release date: January 3, 2004, ISBN-10: 0789309890, ISBN-13: 978-0789309891
At the Water's Edge, Muskoka's Boathouses – by John de Visser and Judy Ross
The Boston Mills Press- Ontario, Canada 1993, ISBN 1-55046-082-x
Houseboats, Living on the Water Around the World – by Mark Gabor
Ballantine Books-New York 1979. ISBN 0-345-27312-5, ISBN 0-345-28117-9, Library of Congress Catalog Card Number 77-6136
Houseboat, Reflection of North America's Floating Homes…History, Architecture, and Lifestyles – by Ben Dennis & Betsy Case.  Smuggler's Cove Publishing 1977, ISBN 0-918484-00-6 (hardcover), ISBN 0-918484-01-4, Library of Congress Catalog Card Number 77-2404
Waterhouses, the Romantic Alternative – by Ferenc Maté
Albatross Publishing House – Vancouver, BC 1977, ISBN 0-920256-01-5
Water Squatters, The Houseboat Lifestyle- by Beverly Dubin
Capra Press – Santa Barbara 1975, ISBN 0-88496-020-X, Library of Congress Catalog Card Number 75-6693
Handmade Houseboats – by Russell Conder
ISBN 0-07-158022-0